This week ExCel, London is home to the WTM London 2015 – one of the most important travel trade exhibitions in the world. It's not open to the general public so I thought it might be fun to share some 'behind the scenes' work I do on the blog and a hint at what you may be reading about in future.
This was my first WTM and naturally I was a little nervous – to say this event is huge is an understatement. However I knew that I would be meeting lots of new people and sourcing tons of awesome future content, so I was excited too!
Visiting the WTM London 2015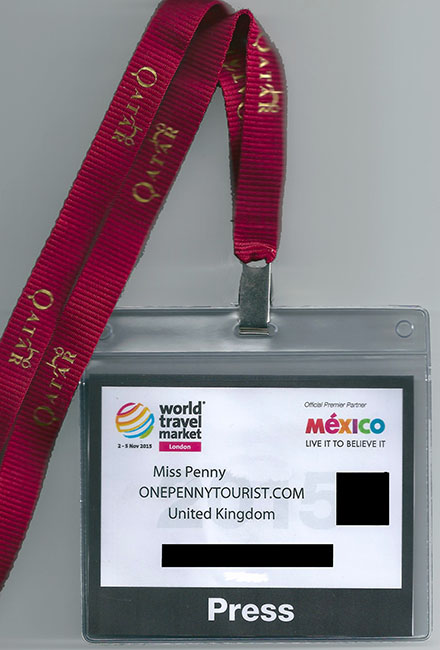 To ease myself into things gently I began with Visit Denmark, who'd I'd worked with this summer when writing about our Copenhagen Card experience. As luck would have it, I also met the owner of the Absalon Hotel where we'd stayed in Copenhagen.
It was great to put faces to names and an absolute pleasure to meet them all 🙂
Close by was Visit Norway. As a first time attendee I chose not to schedule any meetings in advance as I wanted to take things at my own pace, so unfortunately I didn't get to speak with Visit Norway directly as they were with other people, boo!
I did have fantastic chat on their stand with Hurtigruten though, which I was very happy about after recently including them in my Northern Lights post.
We talked about their fleet and niche itineraries, but I really enjoyed hearing about their company ethos. They work closely with many isolated communities they sail to – some places they even deliver their mail! Definitely folks I'd like to follow up with.
Here's a funny thing – I've never spoken with Visit Sweden before, but Reasons to Visit Sweden is currently my 2nd most popular post with many thousands of views. Obviously I thought a little hello from me was long overdue. Another great chat with bonus points awarded for providing Swedish cookies, haha!
---
It's easy to overlook what's on your own doorstep so with that in mind I headed over to the UK area of the show as there were a few Brands I was hoping to speak with.
One of which caught my eye straight away as their stand was great fun.
Yup, the Warner Bros Studio Tour. Designed as Kings Cross with the Hogwart's Express, it even had the classic 'luggage trolley in wall' scene where you could have your photo taken. Before you ask, no, I didn't. I prefer to be behind a camera, not in front 😉
It's also where I had to rather embarrassingly admit that I'd travelled thousands of miles to visit the Harry Potter areas in Universal Studios, Orlando, but hadn't been to the Tour which is virtually on my doorstep *blush*.
Alas there wasn't really anyone at the show working the PR side of the attraction, but they have my business card so I'm still hoping to connect with them in future.
The Visit Britain area was extremely busy and I could see straight away that I'd not get much one-on-one time. I did get to speak with Merlin Entertainment (who amongst other things, own the London Aquarium that I've written about previously).
I also had chats with English Heritage, National Trust and the Royal Collection Trust. I already have something in the works with the latter – expect more about that soon.
Last but not least I had a fab chat in the Visit Wales area where in 2016 they are promoting their Year of Adventure AND the 100th anniversary of Roald Dahl's birth.
We had an interesting conversation about Cardiff, the many things it has to offer, how quick it is to reach from London and how it is so often overlooked. I love my home city, but it's fairly universally acknowledged that the capital overshadows far too much.
I got lots of inspiration from that particular chat. The UK has so much to offer but alas London hogs a ridiculous amount of the limelight – something I plan to address!
Visit Ireland was equally busy and so I had no luck there, but at least the costumed actors were great fun and having their photos taken with anyone interested.
Before I 'left Europe', I had one last stand to visit – Ama Waterways. I had a little trouble finding them as even with a map, WTM is a maze! I had fun wandering past some of the other stands though. North Cyprus had a working potter and wheel on theirs.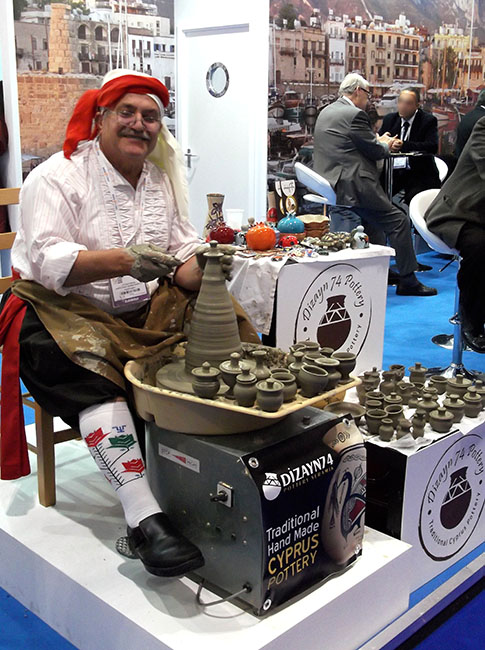 And this guy was hanging out (literally) in Brussels.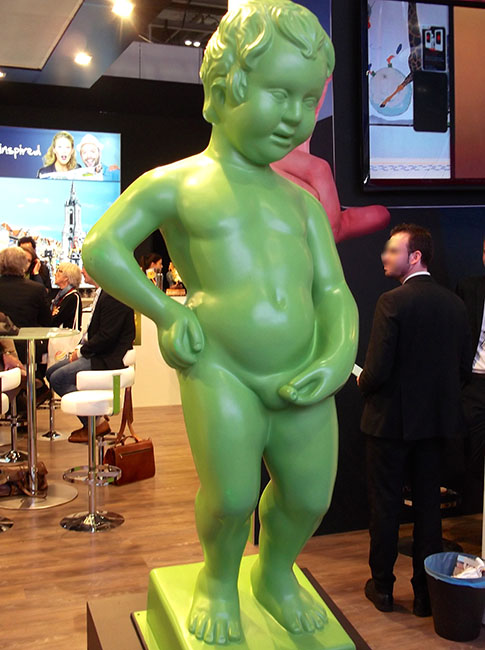 In the same way that ocean cruising has become a mainstream travel option, river cruises are now also beginning to creep into that bigger realm of public awareness. In fact, I'm predicting that River Cruises will become the next 'big thing' in a few years.
Currently working against the industry is the reputation that river cruises are 'full of old people' (not entirely unjustified). I know of people who won't go for fear they'll be the youngest person on board. No wonder then that the cruises have an older demographic – it's because the younger ones all rule out going! Classic Catch 22 situation.
I'm a cruise junkie and a bit of a Disney nut so I was already aware of that 'problem' being challenged next year. Adventures By Disney have entered into an agreement with Ama Waterways to offering a handful of exclusive Disney branded river cruises.
Needless to say, these are very much 'family friendly' and if successful (and I don't see why it shouldn't be, sales for these cruises have been brisk), then it has the potential to crack this Catch 22 situation wide open. It's an interesting time and I'm eager to see how things develop.
---
Time was flying at an alarming rate and I needed to visit the 'North America' area in the other Hall. Along the way though, I couldn't help but smile as I passed Peru.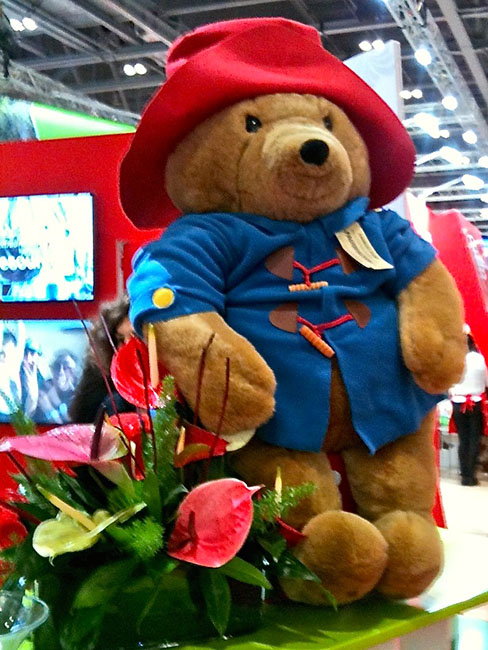 Obviously the large Visit Florida and Visit Orlando stands were top of my list for a chat.
There were two notable meetings here – sadly my beloved Disney wasn't one of them, they were quite disinterested in little old me 🙁 There were Disney reps touring the floor so I left my details in the hope that something will come of that instead. We shall see.
On the bright side, I had a lovely chat with Merlin Entertainment (again) about some of their US attractions. If you are a Lego Movie fan then I learned that next year brings a new mini 4D Lego Movie adventure that is premiering exclusively at Legoland Florida.
They are also the owners of the new (this year) Orlando Eye. Like most new attractions they've had the odd hiccup, but for the most part I've heard nothing but great feedback about the Orlando Eye. Definitely something I'll be talking more about in future.
I also had a great conversation at the Universal Studios Orlando stand, discussing how impressed I was last year with the additions since our previous visit. It's more than the financial investment, the whole atmosphere and attention to detail has improved.
A new onsite hotel is opening soon (Loews Sapphire Falls), another (Cabana Bay) expanded upon. 2017 brings a new water park that rather enigmatically claims that it – and I quote – "reimagines what it means to be a water park".
Universal Orlando are unquestionably pushing the bar higher, forcing other theme parks in the area to innovate too or be left behind in mediocrity. Strong competition is *always* a win for the consumer and the next couple of years is going to be an exciting time for visitors to Orlando. Watch this space!
---
At the Visit California stand, my chat with Disneyland didn't fare much better than my WDW one so I'll just have to hope that something comes from leaving my details.
The Universal Hollywood desk was super busy so I didn't stop there either. This however turned out to be a blessing in disguise as the extra time meant I stumbled upon what sounds like a little gem in San Francisco.
I had a rather wonderful chat with a lady at a company called Blazing Saddles. Based as I say, in San Francisco, they rent bicycles.
Sounds a little mundane when I say it like that, right? Let me rephrase.
They offer guided and self-guided bike tours over the Golden Gate Bridge into Sausalito, where you catch a ferry back to San Francisco. The route is about 8 miles on *safe* roads, and along with regular bikes they have electric ones and even tandems.
I can't even ride a bike (don't judge me), but trust me – it looked awesome! I love discovering cool things that probably fly under most people's radar and I will be writing about these guys in future. They have a branch in New York too.
I also got to have a pleasant chat with the guys at Amtrak. Trains are cool and Amtrak has some stunning routes that are a destination in themselves (looking at you California Zephyr). I only managed to grab them for a few minutes between meetings, but hopefully there's more to come in future because, well… trains are cool.
By now it was late afternoon and my busy day was catching up with me and my poor little feet – soooo much walking, so I decided it was time to call it a day. Well, almost. I stopped to take a peek at the travelling Wool War One exhibition on the Atout France stand, part of the commemoration to the WWI Centenary.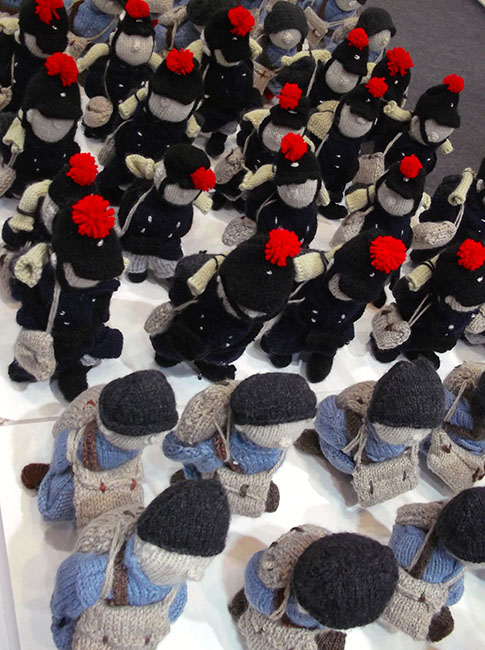 It was pretty cool, here is one of the knitted soldiers close up.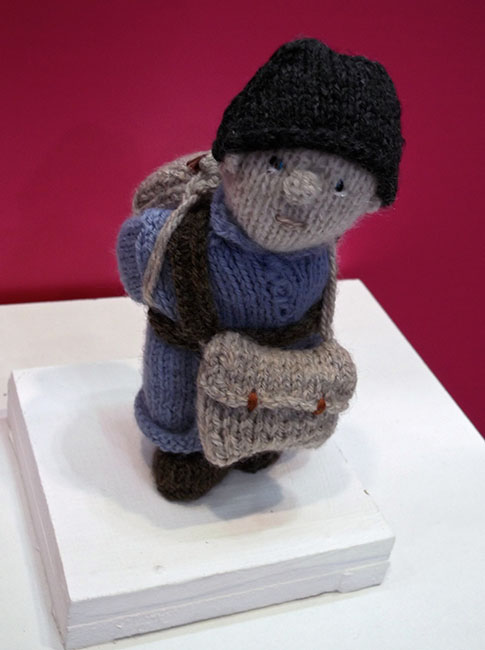 He had a LOT of friends….
A nice note to finish a great day at the World Travel Market on.
Geeky as it sounds, I'm so excited about all the new relationships I forged that day and the future content I've already started to plan. WTM London 2015 was nothing short of inspirational for me and I'm over the moon with how things panned out.
It's a professional environment and it does require extra effort to attend but it's a great opportunity to connect with Brands in a way that you can't do via email. Bottom line: when you take things seriously, Brands will take you seriously.
I couldn't make it back to WTM London 2015 for a 2nd day this year, which is a shame as there were still so many people I'd have love to meet and seminars to attend. But I've certainly got plenty to keep me busy, maybe even until next years show. 😀