I'm long overdue to write about something in London, so I was quite excited when I got the chance to visit the Sealife London Aquarium a few weeks ago.
If you're not familiar with the London Aquarium, it's located on the South Bank in a building known as The County Hall.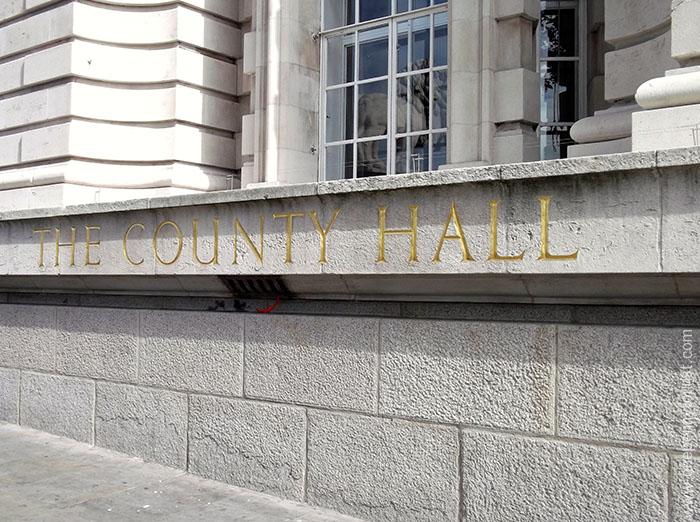 I would have taken a photo of County Hall as it's a huge and quite impressive old government building, but they're having renovation work done and it's covered in scaffold so yeah, lets just look at the sign and leave the rest to our imagination.
We can instead admire the views from it's prime location instead!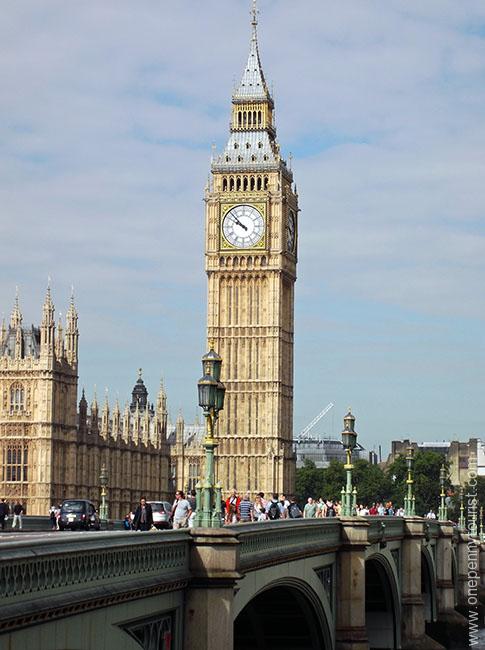 It's not only home to the London Aquarium, but the London Dungeon, Shrek's Adventure, and even a hotel and spa. The iconic London Eye is also located just outside. Peek-a-boo!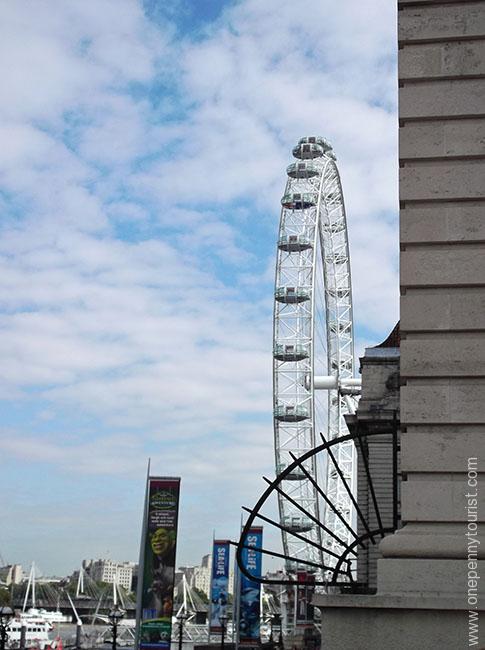 Before I continue, I want to thank the Sealife London Aquarium for providing the opportunity for this review with a courtesy visit. No conditions were placed on me about what kind of review to write; opinions and love of Penguins are, as always, my own.
Sealife London Aquarium: Visiting The Fishies
The aquarium is laid out over 3 floors and largely arranged around it's 2 giant feature tanks – Dive Discovery and Shark Reef. You are guided along the rest by a single route through it's themed areas, getting a very distinct atmosphere moving from zone to zone.
That means at busy times it can get congested, especially as people do obviously want to pause to watch the fish or pretty anemone's like above.
Tip: Get there early. We arrived shortly after opening and rarely felt any 'pressure' to move along from tanks due to people waiting behind.
At this point I also feel it's worth mentioning that unless you happen to be passing a scheduled event at the correct time, you will have to have to backtrack the route.
At the end of our visit we debated going back for the penguin feeding but we just didn't fancy trekking through it all again – so we skipped it. Which is a shame because we were definitely interested, it just seemed a bit too much hassle.
Not a deal-breaker by any means, but you might want to take this into account if you want to see any of the scheduled talks.
Dive Discovery is home to it's tropical ocean display with coral, Rays and 2 beautiful rare Green Turtles. As you'll see in my video later in the post, I had some wonderful views as they swam around, especially in the glass tunnel walkway as Boris (I found out his name afterwards) obligingly swam right over my head.
Shark Reef is viewed from multiple levels – starting literally from the minute you enter the door as the entrance has a glass floor and you walk directly over the sharks. You also get the opportunity to view the tank from multiple locations as it's basically the aquarium's centerpiece. It's pretty impressive and was one of the highlights of our visit.
Beyond the main tanks there are many smaller ones with a wide variety of fish. Clown Fish (Nemo!), Piranha's, Jellyfish, Cow Fish, Lion Fish (why are they called that when they're stripy?), there seemed an endless supply of our little fishy friends to peruse.

Of course, one of the star attractions is the penguin enclosure. This is part of a larger Antarctic zone but most people head straight for the sociable Gentoo penguins who were all too happy to dive and swim up close to the glass. I'm still not really sure who was watching who that day, hehe, but you'll have to watch the video for those little guys.
But it's not all fish tanks, there are interactive areas too. One area we stopped at was a Starfish rock pool and under supervision we were allowed to touch one. We all had a chuckle when it was described as feeling like a soggy chicken nugget!
That's not the only thing either. Sealife is owned by the same company who also run the Legoland parks and they put that connection to good use in order to keep the little ones amused should their enthusiasm for fish wane during the visit. Though really, how anyone could not be fascinated by a Cow fish…
One was a Lego Scavenger hunt where Lego models were placed in some of the tanks and you had to find them. Then there were the Lego zones where kids could plop themselves down and do exactly what you're supposed to do when you've a pit full of lego bricks – they built stuff. I was pretty tempted to get stuck in myself…
There is of course the inevitable gift shop. It has quite a lot of cool stuff so parents be ready to speed walk through if you don't want to get hit with extra expense. I confess, I have never seen a jelly-fish soft toy before. There were also the Blinguins! You'll need to see the video for that cryptic comment to make sense, haha.
Flash photography isn't allowed and so for this visit I put my GoPro HERO
 to work and I pulled all photos from my highlights video. If you follow me on Facebook or Twitter, then you may also have already seen the video I made, but for those that missed it then you can see much, much more of the Sealife London Aquarium residents below.
We genuinely had a fascinating time at the Sealife London Aquarium and really enjoyed our visit. Adult tickets cost £23.50 and a child ticket is £16.95. Children under 3 are free.
But (why is there always a but?!) therein lies my only real niggle too. I want to stress that I think it's unquestionably a quality experience, however what it doesn't have is longevity. We took our time to wander the tanks and were done in only 90 minutes.
In fairness we did not attend any of the scheduled talks or feedings however I can't imagine that adding more than an hour or so making £23.50 a fairly steep price tag.
Fortunately, I have some suggestions to help with this expense.
 Purchasing your tickets online in advance, the ticket cost comes down to £19.98 for adults and £14.41 for children. You can also buy a Family ticket for £62.15 which starts to make it feel a bit more reasonable.
If you're also visiting The London Dungeon, the London Eye, Shrek's Adventure or Madam Tussauds, you can purchase a multi attraction pass for some extra savings.
Last but not least, the Sealife London Aquarium is covered by the Travelcard 2-for-1 ticket offer. For details of that particular offer, you can check out my guide.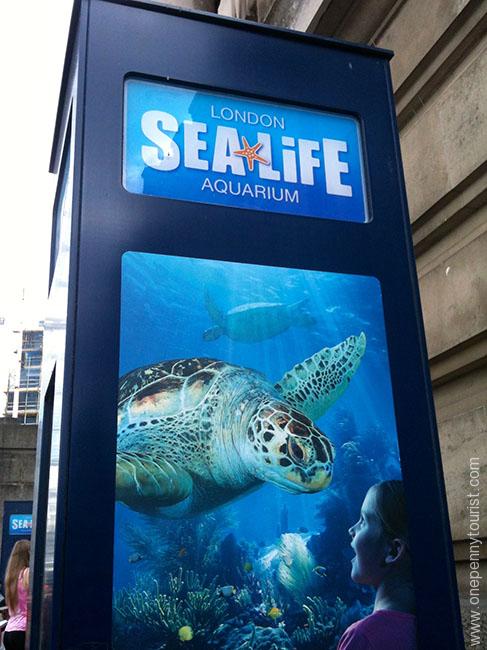 As I'm sure you can tell from my video, we had a great time on our visit to the Sealife London Aquarium, and as criticism's go "I was enjoying it so much I would have liked even more" obviously isn't the worst, hehe.
Plan ahead and avoid buying tickets on the door and you'll be all set for a fab couple hours of fishy fun 🙂
Sealife have aquarium's located around the UK but this is the only one I've visited so cannot compare. Have you ever been to one? I'd love to hear what you think.

Enjoyed this post? Why not subscribe and have my posts sent weekly to your email.
[optin-cat id=13]