One of the most frequent Bucket List conversations I have is about seeing one of nature's biggest light shows – the Aurora Borealis, aka Northern Lights.
I love researching these sorts of dream trips, so today I thought I'd share what I consider to be 5 great places in Europe to view the Northern Lights from – they are all clearly wonderful so it's just which destination appeals to you personally.
Pick one and do it, or do them all! 🙂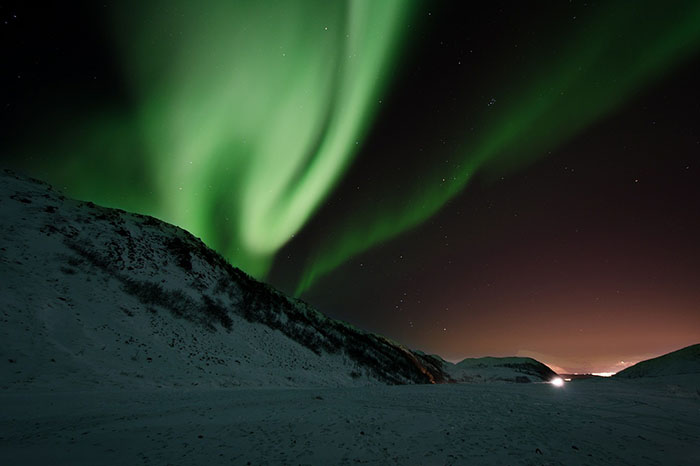 5 Great Places In Europe To View The Northern Lights
The Northern Lights 'season' runs from September through March when the longer hours of night give you the best opportunity to view. Technically the Lights can occur year round, but obviously are only seen when it's clear and very dark.
This spectacular natural phenomenon is created when charged particles are blown from the sun and hit the Earth's atmosphere. The gases create a variety of colours spanning the night sky, though people seem to be most familiar with the green 'clouds'.
Norway
If you've read any posts from my summer cruise that stopped in Olso, Kristiansand and Stavanger, you'll know my first experience of Norway turned into a love affair. I'm itching to go back and the Northern Lights would make a great excuse, don't you think?
Norway does a great job of expanding on the core experience as people combine their trips with dog sledding, ice hotels and aurora cruising (more on that last one later). This makes it possibly the best known package option for the Northern Lights in Europe.
Perhaps Norway's most popular aurora destination is Tromsø. 350km inside the Arctic Circle and with good transportation options, including an airport, it's one of the most easily accessible places to base your trip from.
You can clearly see the Lights within Tromsø, however light pollution means it's not ideal and taking photos is more difficult. Fortunately the surrounding area is still remote and there are many guides to take you out of the city to see them at their best.
If you're planning a visit during January you'll even get to experience the Tromsø Northern Lights Festival or Nordlysfestivalen, that celebrates the aurora and the first dawn of the year after weeks of complete mid-winter darkness.
Finland
Finnish Lapland is not only home to good old Santa – it's said that the Northern Lights appear something like 200 nights a year there too.
Needless to say viewing the Lights can be a chilly affair, but Finland is home to one of the best known places to stay and if you've spent any time looking at travel on Pinterest you may already be familiar with the famous Igloo village at the Hotel Kakslauttanen.
Designed in such a way that the windows don't frost or steam up, you can stay inside and gaze directly up into the sky. Watch the stars and hopefully Lights while tucked up in bed, making late night viewings not only warmer, but comfortable too.
Iceland
In case you're wondering, Iceland literally sits on the continental divide meaning parts of the country sit in Europe, and the other in the Americas. Pretty handy if I ever write a North America version of this article as I can include it in both, hehe.
I was lucky enough to briefly visit Iceland this summer and let me tell you that Iceland's landscape doesn't play by the same rule book as the rest of the world. That means it also has some rather unusual ways to view the Lights!
If at this point you're wondering why you're looking at some horses it's because a) there's only so many photos of the Northern Lights you can show before you zone out and b) Icelandic Horses are just so damn cute with that big fuzzy mane.
Oh right, I digress, where were we? Aha, yes, unusual.
Perhaps the most surreal way to view the Lights in Iceland is the Floating Tour. Iceland is geothermal and covered with natural hot springs…you know where this is going, right?
Around 90 minutes from Reykjavik is Iceland's oldest swimming pool – except this pool just happens to be a geothermal lagoon with water at 38-40C (100-104F) all year round. Climb in, listen to music piped in on their underwater speakers, relax, look to the skies and hope the Lights grace you with an appearance.
What's really handy about Iceland too is that Iceland Air offer free layover's on their transatlantic routes so if you're heading to the States/Europe anyhow, you can experience a few nights in Iceland without paying for an extra flight – profit!
Sweden
I've already touched briefly on where to view the Northern Lights here when I wrote my Reasons to visit Sweden.
The Aurora Sky Station is considered one of the best places on earth to view the Northern Lights due to it's prime location. North of the Arctic Circle in the Abisko National Park, it's in the middle of nowhere and doesn't suffer from light pollution.
It's also 900 meters above sea level on Mount Nuolja and the mountains help keep the clouds at bay. Clear skies can't be guaranteed but….it's as good as it can get. As long as the Sky Station is open (it's not completely impervious to the weather – snow storms still happen), they say that the Northern Lights can be seen there most nights.
This makes it a great choice if your time in the region is on a tight schedule as it greatly increases your chances of a successful sighting.
The Aurora Sky Station also hosts an exhibition dedicated to the Northern Lights and a guided tour is included in your visit, so even if the Lights themselves fail to show up, you still have a rather unique experience. Half way up a mountain. In the Arctic.
Hurtigruten
You're quite right – Hurtigruten is not a place which is why I've saved it till last – however, I felt it deserved it's own special mention.
Hurtigruten is a niche cruise line so don't worry if you've not heard of them; the history of their business dates all the way back to 1893, so they're definitely not 'newbies'.
Remember when I mentioned earlier that Norway is unique in offering Northern Lights cruises? This is it. View the Northern Lights from a slightly different perspective as you sail along the Norwegian coastline (and fjords).
Call me lame all you like, but I actually got a little lump in my throat when I spotted their video on Twitter (well, until I heard the slightly cheesy 'Wow! Amazing!' guy, but who am I to judge, hehe) – it just all looks so beautiful.
I also realised that you don't see many real video's, it normally photos or time lapse…
If you have the time, then their Classic Round Voyage is probably the best chance you're ever going to get to see the Lights. Not only does this cruise last 12 days, but Hurtigruten make a Northern Lights Promise. If the Light's fail to appear during this sailing, guests receive a FREE future cruise. Rather awesome 'guarantee', no?
So there you have it – my 5 Great Places In Europe To View The Northern Lights.
Have you ever seen the Northern Lights? Let me know in the comments if the Aurora Borealis is a dream or a reality for you 🙂

Why not make life easier (and really, who doesn't like that!?). Never miss a future post again and subscribe by email.