If you've already read about my stay at the Absalon Hotel earlier in the week, you'll know that I recently spent 2 days visiting Copenhagen.
As part of my research, I'd obviously looked into whether it would be worthwhile to invest in a Copenhagen Card. This card allows entrance to many of Copenhagen's main attractions, offers discounts, plus covers train, metro and bus travel in the region.
Used right, it can save money (they have a handy calculator on their home page helping you to 'do the math' which I LOVE) and is convenient to use too.
The dilemma was that I knew that our time in the city would be tight for us.
The Copenhagen Card can be purchased in increments of 24, 48, 72 and 120 hours. Technically speaking we'd be in the city for exactly 48 hours, but that included dealing with arrival day travel fatigue and heading to the cruise port on our last.
I was torn and flip-flopping constantly – should I or shouldn't I?
Disclosure: This is where my friends at Visit Denmark and Visit Copenhagen came to my rescue. They provided 2 Copenhagen Cards, free for the purpose of review, with no conditions attached to only write a good review. My opinions, as always, are my own – if for no other reason than I'm waaay too opinionated to let others decide what I say.
A quick recap then. Nearly 48 hours in Copenhagen, 2 Copenhagen Cards in hand and a now slightly over-excited Penny. All caught up? Excellent, lets get started.
One thing I liked straight away about the Copenhagen Card is that it covers the train journey from Copenhagen Airport in to the city. If you pre-purchase it can be mailed before departure for immediate use, though you can also buy on arrival at the airport, among other places.
So lets fast forward – we've negotiated the journey from airport to hotel, offloaded our bags and with Copenhagen Card in hand, we hit the ground running. Well, leisurely walking.
We like to explore places on foot a lot, so despite the fact we could catch a bus for free, off we went to nearby Stroget, Copenhagen's famously long pedestrian street.
…with us finally ending up in Nyhavn.
It was here that the overcast sky started to look even more ominous and we were faced with a choice. Should we do a Canal Boat tour (Note that while canal boat tour's do leave from Nyhavn, the one included with the Copenhagen Card leaves from Gammel Strand), or take refuge indoors at a museum?
I really wanted to see more of the city so off to Gammel Strand we went, hoping that our Canal Tour boat would be under glass – it was, massive PHEW! Hehe.
The Canal Tour lasts an hour and takes in many of Copenhagen's iconic sights like the Opera House, the Black Diamond and the Little Mermaid. Though there are plenty of other interesting places which our multi-lingual guide told us about along the way. I'm not much of a tour person, but the Canal Tour is no-brainer and I highly recommend.
You can get a sneak peek of the tour as I tried out my brand new GoPro HERO
After our Canal Tour ended, we pondered our next move. It was late afternoon, we'd had no lunch and were feeling our early morning start a little bit. There was a brief respite from the rain, but more was coming. We made the decision to head back in the direction of our hotel, hunting for food along the way.
While the card offers discounts at several restaurants, a menu elsewhere had already caught my eye so we ate there. Bloke was ready to try a local beer too.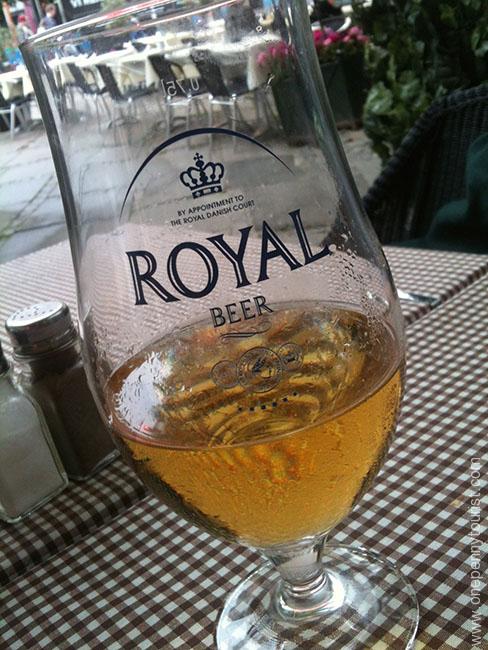 We knew by now that we'd not have the energy to stay up late and as we were still being hit with constant rain showers we made the decision to 'stay local' – this meant a visit to Tivoli Gardens. We dashed back to our hotel to change into warmer clothes for the night.
Entrance to Tivoli Gardens is included with the Copenhagen Card, though rides cost extra. Neither of us are 'in' to thrill rides so we were content wandering around the gardens, live shows and shops – you can even feed the fish. Sadly we surrendered to exhaustion long before the 11:45pm firework show took place.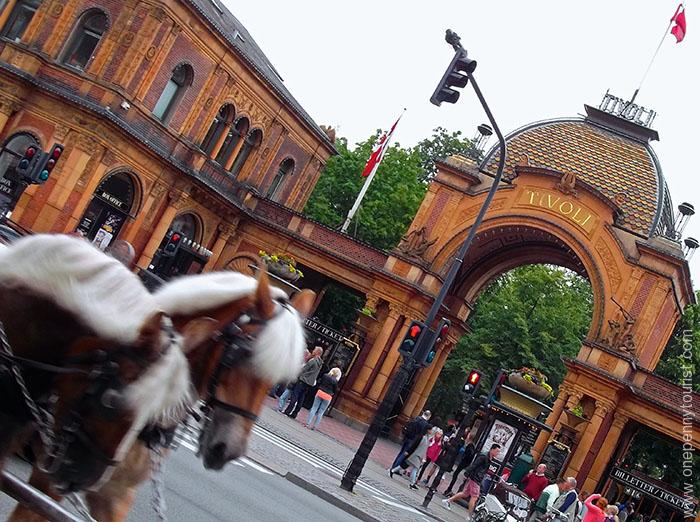 Fortunately the Copenhagen Card allows entrance every day so we planned to go back the following evening! No fireworks that night but we could at least see the park twinkle as it lit up after dark. Expect a dedicated post on our Tivoli Gardens visit(s) in the near future.
The Copenhagen Card isn't just for inner city activities but also covers Greater Copenhagen and North Zealand. This is great because the next day we jumped on a train for free and took the 45 minute ride to visit Helsingør.
Helsingør is home to Kronborg Slot, a World Heritage site and famously 'Hamlet's Castle'. It was also a fortress guarding the narrowest point of the Øresund – the waterway separating Denmark and Sweden – demanding a toll payment for any ship that wished to pass.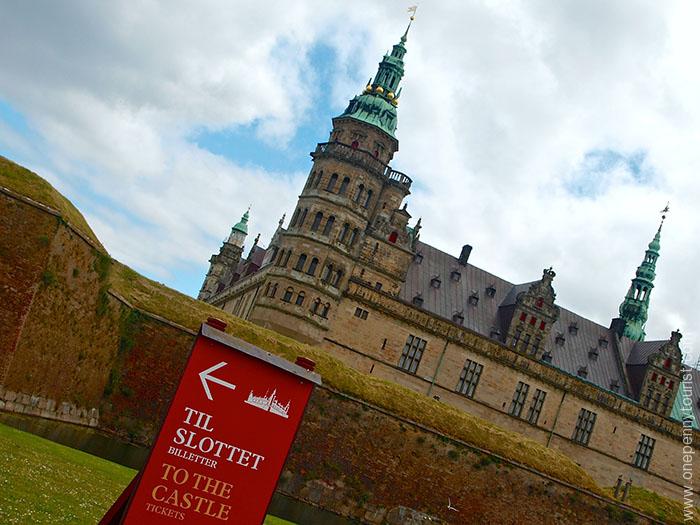 Entrance to Kronborg Slot is included with the Copenhagen Card, and there are great views across the water to Øresund in Sweden.
Helsingør was my personal highlight (a whole other post coming for that too) so don't be put off if an attraction is located outside of the main city. We found the transportation system very simple to navigate, and if unsure, just ask as everyone seems to speak English. I swear some of them spoke it better than me, haha!
After several pleasant hours exploring we jumped on the train to spend the rest of our day back in Copenhagen. We got off a couple of stations early at Østerport, took in a few more city sights and had dinner in Nyhavn. We finished, once again, with Tivoli Gardens.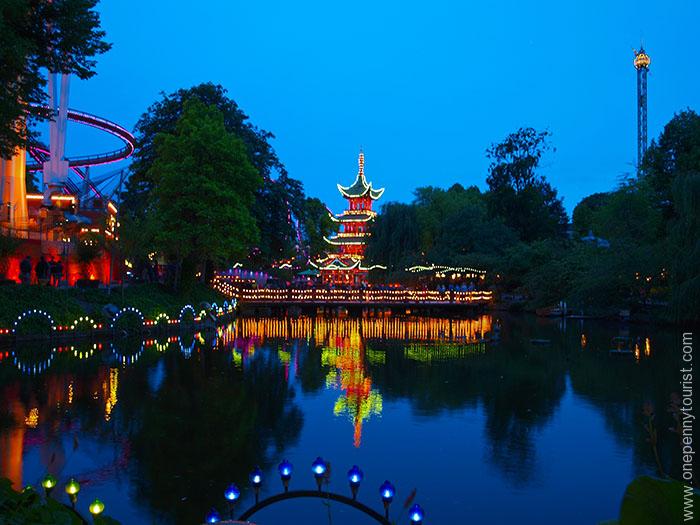 On our final morning we were ready for a last minute speed visit to Rundetaarn for photos of the city skyline, but alas, it was another dark and overcast morning. Rather than stress ourselves clock-watching before our cruise, we decided to end our stay in Copenhagen on a high with a relaxed breakfast instead.
So, after all that you're probably wondering…
Did we save money with the Copenhagen Card?
And the answer is…yes!
Now, to be fair, the savings were modest. But, and this is a huge but…this was despite the rain, a much needed early night and not using the card on the final morning. Effectively we had 40 hours as tourists using a 48 hour Copenhagen Card – and we still came out ahead.
On top of that we:-
Spent a couple of hours having a good old fashioned wander along the Strøget.
Took our time over a very leisurely meal as the rain fell.
Wandered along the lovely harbour at Helsingør and it's sleepy Sunday streets.
We walked the walls of the Kastellet.
Had no hesitation to stop for a little waterside drinkie at Toldboden when the sun made a brief afternoon appearance.
Went back to the Little Mermaid (despite having seen her on our Canal Tour)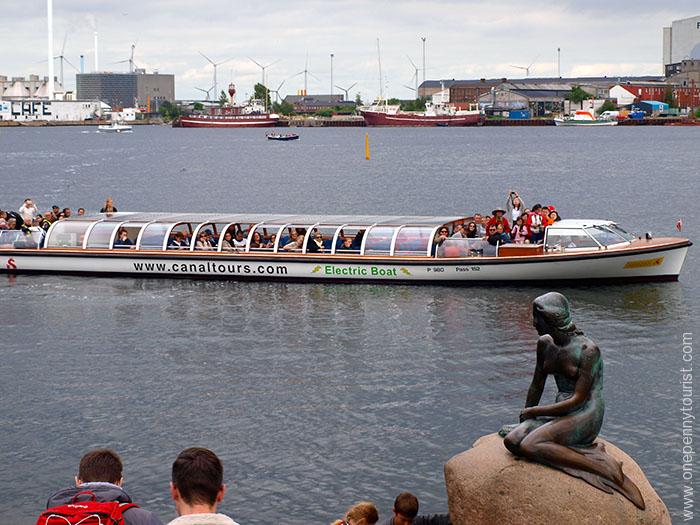 In other words, we were not even close to being 'slaves' to only doing attractions that used the card to the exclusion of everything else. I think you'd be hard pushed to find many 'City Pass' type deals with such a generous margin to find value as the Copenhagen Card has.
Obviously it's wise to use the aforementioned calculator however, I think it's refreshing that the decision doesn't simply boil down to whether you are a hardcore tourist. If freestyler's like us – under tricky circumstances – can save money with the Copenhagen Card, then I suspect anyone can.
We've already had the 'We need to go back for another visit, but for longer' conversation – would we use the Copenhagen Card next time? Yes, we would.

For an easy life (and who doesn't want that?), why not subscribe and get posts and the occasional exclusive newsletter sent directly to your email?
[optin-cat id=13]
Brilliant Blog Posts