Street art in London is a familiar sight, so much so that living here you can take it for granted. My blog has been a real eye-opener to me in that sense, because when you consciously look for subjects to write about you start to appreciate the every day things so much more.
A classic example of this is when I wrote about the Dalston Peace Mural – a 4 storey building sized mural that I've passed countless times on my work commute. Yet, it wasn't until I actually wrote about it that I realised that it's 30 years old this year.
Last week, Bloke and I decided to go for a walk from Waterloo along the South Bank to, and across Tower Bridge (which opened as we approached, bonus!). It was as we wandered that we found this on the side wall of Wagamama's and opposite Vinopolis on Clink Street.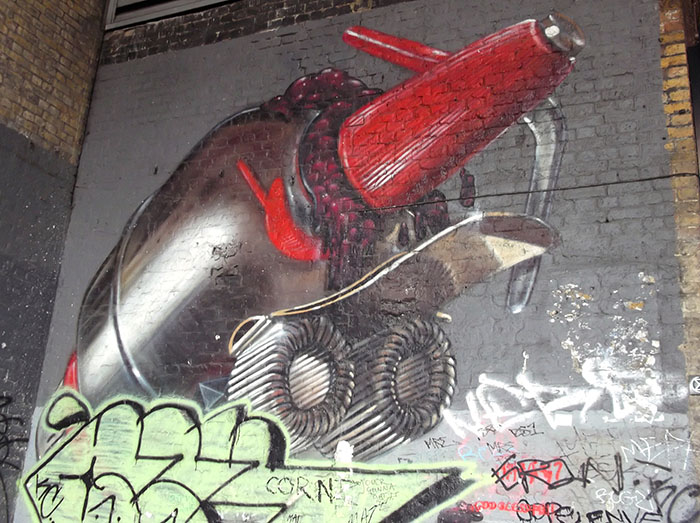 I won't lie, I was a bit confused about what exactly was going on in it. I mean it's obviously a soda syphon, but is it on a rocket? Or is that a skateboard?! I sensed there was more so I hit up my old pal Google when I got home from which I managed to piece together it's history.
I first found a photo of it that had been posted back in 2008, so I knew it had been around for a while. I then found another clue about it being part of a series of works painted by some Madrid street artists for the Tate Modern.
This finally lead me to finding the artist S P O K, and voila, a photo of the original work in all it's glory. As you can see, these days graffiti covers the whole bottom area of the painting, hiding what looks like a French coffee press.
It also more clearly shows a coin slot, turn handle and a little red chute so now I'm choosing to interpret it as some sort of retro themed drinks vending machine.
I managed to find this video on the Tate website showing a sneak peek of it (along with the other pieces) actually being painted which I thought was pretty interesting too. Forward to about 1:40 to see this particular art work being created, though no clues of the artist's intent.
Do you enjoy seeing this kind of street art in London?

If you enjoyed reading this post, let me know. I love it when people leave comments 🙂