Last summer I found myself in the vicinity of the O2 Arena (known in ye olde days as The Millennium Dome) and as riding the Emirate Air Line had been in the back of my mind since it opened for the London 2012 Olympics, it seemed the perfect opportunity to finally get myself on board this River Thames cable car.
The Emirates Air Line – aka London's only Cable Car
Taking approximately 10 minutes to 'fly' between the Greenwich Peninsula and the Royal Docks the Emirates Air Line it is London's only cable car and gives impressive bird eye views of the 02 Arena, Canary Wharf, the River Thames and the Thames Barrier from your gondola.
Now, let me share a couple of tips with you before I go any further.
Firstly, do yourself a massive favour and bring a decent camera with you because there really are some fab views of the London skyline. I hadn't planned to ride that day and only had my poopy old camera phone with me. I took photos but I was crying on the inside knowing that it couldn't even begin to do the views justice. Be prepared!
Secondly, note the time of day you are riding. Obviously you want to go on a nice weather day, but as the Air Line runs roughly East-West you'll also have to deal with direct sun. I rode late afternoon and shooting in to the sun made my photo's look more like dusk.
Anyhow, plan your trip accordingly for perhaps midday/early afternoon or make a return trip where you can take each journey at different times of the day. That way you can appreciate the views in all directions rather than squinting at them. Alternatively you can ride at night.
Last but not least double check the events calendar at the 02. If your visit coincides with a gig then it'll be super crazy busy and crowded. Don't torture yourself, go when there won't be literally thousands of other people there.
As I said earlier, I only had my camera phone with me that day so I can only really give you a hint of how cool experience is, but if interested you can get a better idea of what to expect by watching Transport for London's Emirates Air Line video on Youtube.
Yes, you read that right. This is operated by Transport for London meaning this is a form of public transport in London. Can you believe that? Some lucky devils get to ride this every day when they commute to work. How freaking cool is that?! However it also means is that you don't get price-gouged for riding it either.
Current cost to ride the Emirates Air Line is:-

Adults £4.50 cash single fare, or £3.40 for Pay As You Go Oyster or Travel Card user.

Child £2.30 cash single fare, or £1.70 for Pay As You Go Oyster or Travel Card user.
If you have a Pay As You Go Oyster Card you can just touch your card at the gate and ride. If you have a Travelcard you have to buy a ticket from the window/machine but it's at the same discounted PAYG Oyster Card rate.
If you're visiting London and you're not sure which ticket is best, see my guide: Best way to travel in London for more information.
You can also buy tickets that include entrance into The Emirates Air Line Discovery Experience which is on the Greenwich side. I didn't visit that and so can't say what it's like but as it's not a hugely expensive addition to the ticket I'm thinking it's may be worth a peek, especially if you're remotely interested in Aviation.
Perhaps something for me to review another day…
There's also a lovely 'pub' on an ex-Royal Navy refuelling barge (you can't make this stuff up) called The Oiler Bar, located near the Royal Docks Air Line station. We had no problem getting a seat on deck on a sunny afternoon but it did start to get busy as we left and I suspect it's popular. It also happens to be next to the rarest of things – a dinky London beach! It's also great fun to watch the water sports taking place in the quay.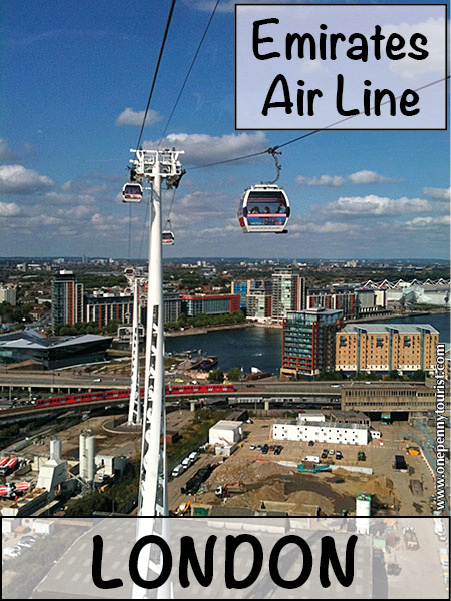 I was genuinely mesmerised by the views of my home city and as it only costs a few pounds to ride the Emirates Air Line, it's a ridiculous bargain at the price. Whether you're a Londoner or a tourist in the city I really recommend it and I am sure I'll be riding this again next time I'm in the area – armed with a real camera!
Have you been on the Emirates Air Line cable car? Would you consider riding it? Or do you get vertigo just looking at it?!

If you enjoyed reading this post, let me know. I love it when people leave comments 🙂
Part of the Travel Tales blogger link-up