I'm a huge Disney park fangirl (Can you please pretend to look surprised?), but there are obviously many attractions around Orlando. While we mostly stay onsite at Walt Disney World, we don't shy away from venturing offsite – we'd miss out on half the fun!
Eating out is one of our biggest expenses, so when I heard that Universal Orlando offered something called the Universal Dining Plan – Quick Service to all visitors (unlike the Disney Dining Plan which requires staying at a WDW resort), I knew that I had to check it out.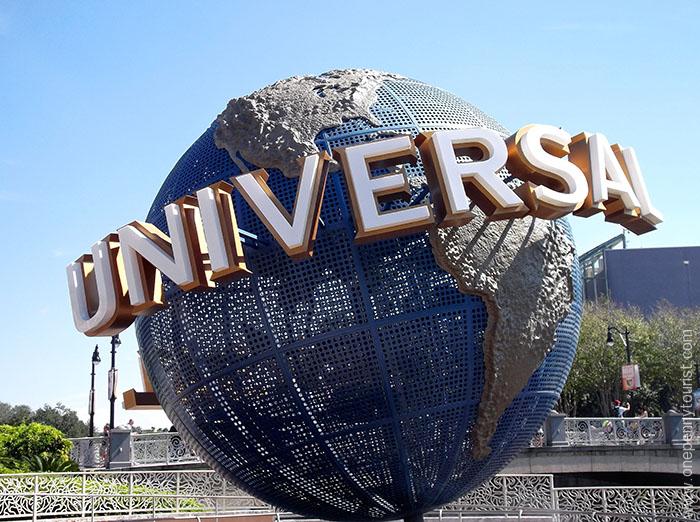 Last yea we spent a few days at Universal Orlando; The Wizarding World of Harry Potter was too much to ignore! It also gave us the perfect opportunity to test the Universal Dining Plan – Quick Service option.
By the way, the reason I specifically add Quick Service to the end each time is because the 'Universal Dining Plan' itself is a different dining option offered to onsite guests. It's a mouthful, but to avoid confusion I'll always refer to it by it's full name.
Universal Dining Plan – Quick Service entitlements
The Universal Dining Plan – Quick Service plan at time of writing includes the following:-
1 Quick Service Meal
1 Snack
1 Coca Cola Freestyle Souvenir Beverage cup (Valid for 1 day and offers Unlimited Freestyle refills (10 minute 'cooldown')).

The cost per adult is (currently – Oct 2019) $29.99 per adult and $21.99 per child + tax
When you are at Universal Orlando you will see signs like this around the parks at counter service restaurants that explain what's included with the plan.
You don't need to purchase the Universal Dining Plan – Quick Service option in advance. Order your food as normal then when paying you simply ask to purchase the Quick Service Dining Plan instead of paying for individual items.
On purchasing your Plan you'll receive some Dining Plan cards like this for each person.
The cashier will then use the card as payment for your purchase (lunch, drink or snack). Any remaining entitlements will be printed on the bottom your receipt.
When you order something else simply hand your card to the cashier as payment.
Simple, eh?
Is it good value? Like most pre-paid plans the answer to that is 'it depends'. The Quick Service Plan claims to save up to 30%, but some meals are less expensive than others so what you save will depend on what you eat. We did save, but certainly not 30%.
That said, personally we did like the Universal Dining Plan – Quick Service option and there were two specific things that really added to the value of the plan for us.
First and foremost, the Coca-Cola Freestyle Souvenir cup. The Freestyle cup entitles you to unlimited soft beverages for the day from the Freestyle machines located around the park.
Plus you get to keep the Souvenir cup as, well, a souvenir.
Note: The Coca Cola freestyle machine has a 10 minute 'cool down' between uses. Discovered not because we were drinking quickly, but due to an over zealous flavour creation that was…not so good, hehe. We tossed it immediately so had to wait.
The other thing was this baby.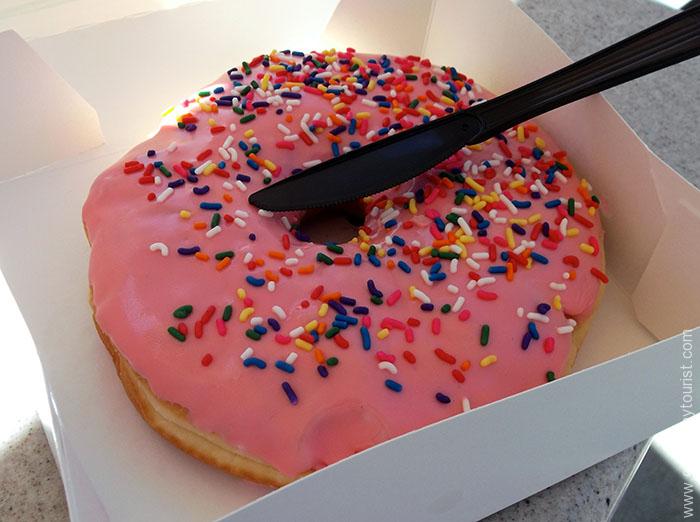 We just had to get ourselves a Lard Lad Donut from the Simpsons area. It wasn't with much hope that I said "I don't suppose this counts as a Snack on the Plan does it?" Answer: Yes!
It's hard to give this donut perspective but that is a normal sized knife. If I had to guess I'd say it was about 6 inches wide and over an inch deep. It's basically a donut cake. Very shareable, even for hearty eaters like us. Fantastic use of a Snack credit.
Tip: If you want to try a famous Butterbeer, note that they count as a Snack on the Plan – so plan your credits accordingly!
We felt the Universal Dining Plan – Quick Service option was a decent deal. The Plan by itself wasn't huge savings, but Coca Cola Freestyle cup is great. We loved having cold drinks (virtually) on demand and the drink and flavour combinations was priceless.
If you are debating the Universal Dining Plan – Quick Service option for an upcoming trip, I hope you found this review useful. If you're also considering an onsite stay for your visit, you might want to check out my virtual tour of Portofino Bay Hotel.
If you've tried the plan yourself already, did you feel it was good value for money? I'd love to hear your comments below, let me know what you think.