Spring has sprung and the sun is shining (sometimes), but you know what that means…chocolate! No wait, that's not what I meant to say. It means Easter! Psst, and chocolate.
Anyhow, what better way to celebrate the end of our collective winter hibernation than to hunt down something fun to do – so that's exactly what I did! Check out these upcoming events I've stumbled upon that are all taking place around London this Easter.
Shaun in the City Art Trail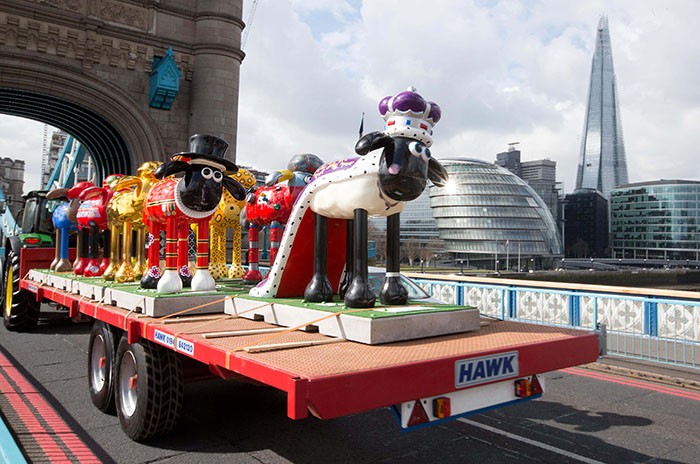 "You will never guess what I saw today going past London Bridge". Yes, Bloke rather smugly told me he'd seen the travelling flock of Shaun's when they trundled past, pulled by a tractor. And yes, I was predictably jealous!
From Saturday 28th of March to Monday 25th of May 2015 you'll be able to spot these awesome (not so little) guys all around the streets of London. That's right, Shaun will be calling places like Covent Garden, Trafalgar Square and St Paul's Cathedral home for the next 2 months.
All statues will then be sold later in the year and the money raised will go towards Wallace & Gromit's Children's Charity.
Shaun awaits ewe…hey, don't look at me like that.
Easter themed Afternoon Tea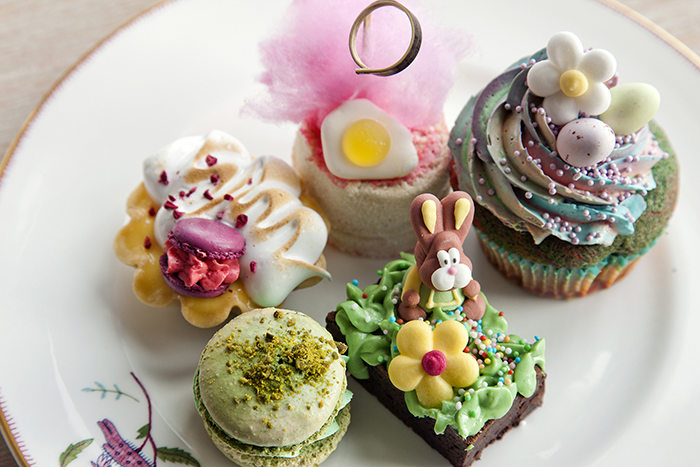 I think we all love a good Afternoon Tea, so it totally makes sense to treat yourself to a themed one this Easter too, right? Well that's my story and I'm sticking to it.
Many hotels in central London this Easter are offering these, but in particular the Easter Afternoon Tea at the Ham Yard Hotel (Finished, link no longer works) caught my eye.
With bunny garden chocolate brownies, candy floss Swiss roll and a rainbow cupcake with speckled eggs amongst it's offerings, the fun and lighthearted theme really captured my imagination. Life…and Easter, is too short to be serious.
It's also only £19.50 per person making it one of the more affordable Afternoon Tea's on offer around the capital. I noticed it was filling up fast though, so be sure to book sooner rather than later. Ends the 7th of April.
Shaun the Sheep at Kew Gardens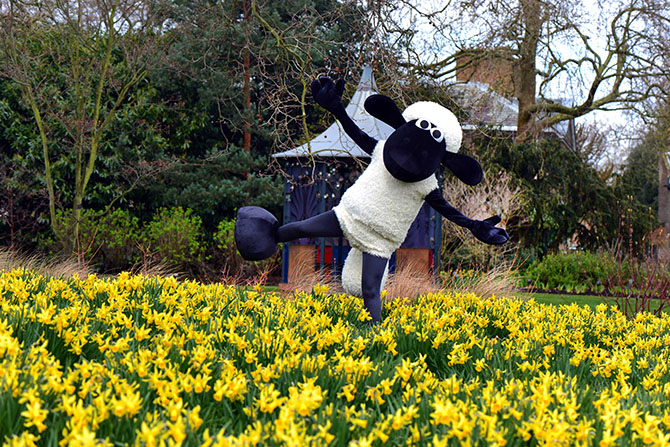 If you didn't see enough of them earlier, Kew Gardens are hosting some sheep related antics of their own this Easter with their Shaun the Sheep spring salute.
From Saturday 28th of March to Sunday 12th of April there are a number of family activities taking place such as, amongst other things, Wellie Wanging (I'm not saying a word), the Sheep Hopper Maze and a Vegetable Orchestra.
They will also be holding their traditional Easter Egg Hunt on Sunday 5th of April from 9:30 till 12:00 (or when eggs run out). Collect the tokens and receive a chocolate reward from the Easter Bunny himself. 
You do need tickets for Kew Gardens, however entry is free for children aged 16 and under.
Battersea Park Children's Zoo – Easter Egg Hunt
This is an Easter egg hunt with a little bit of a difference as you need to spot the Easter eggs amongst the resident animals that live at the zoo. I think it all very cute and besides, who can resist a Meerkat?
You do need to pay to enter the zoo, but from Saturday 28th of March to Sunday 5th of April you can purchase an Egg Hunt Quiz Sheet for only a £1 and then use the clues to find the eggs throughout the exhibits. It does also include a prize at the end.
Hampton Court's 500th anniversary party
Famous for Henry VIII and a maze, Hampton Court Palace is throwing open it's doors from 6:30pm-9pm for 3 nights (3rd of April to 5th of April), to host a rather special birthday bash.
Pop up bars and Tudor styled kitchens will be selling food and drink throughout the evening, and live period music will also be playing. This all leads to a 25 minute projected 'son et lumiere' show and culminates with a firework show above the Palace.
Totally doing something like this for my 500th birthday.
Tickets can be bought in advance and probably should be as this will likely sell out.
Are you going to be in London this Easter? What are your plans?

If you enjoyed reading this post, do let me know – I love it when people leave comments 🙂