I make little secret of the fact that my favourite park at Walt Disney World is Epcot so it should be no surprise that I also try to coincide my visits to when the park is hosting one of it's festivals; the Epcot International Flower and Garden Festival in spring, and the Epcot International Food and Wine Festival in the autumn.
This time next week the Epcot Flower and Garden Festival will already be welcoming visitors when it begins on March 4th (through to May 17th). Alas I won't be one of them, but I'll definitely be there in spirit.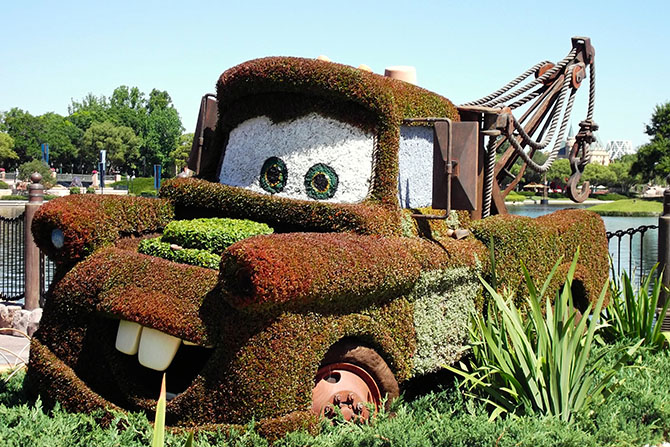 You can pretty much guess the theme of the festival from it's name, but a couple of years ago they began to include 'Outdoor Kitchens'. These are little kiosks selling sampler portions of food and drink. When I saw these in action last year I thought they were an excellent addition! It was lovely to have something interesting to nibble or sip on as we strolled the World Showcase and admired the beautiful topiaries; it really added to the atmosphere.
While I won't be experiencing the festival first hand this year I figured I'd still take a look at my personal highlights of the menus and reminisce a little about previous Flower and Garden Festivals I've attended. If you'd like to see the full 2015 menus of each Outdoor Kitchen you can check them out at the Disney Food Blog.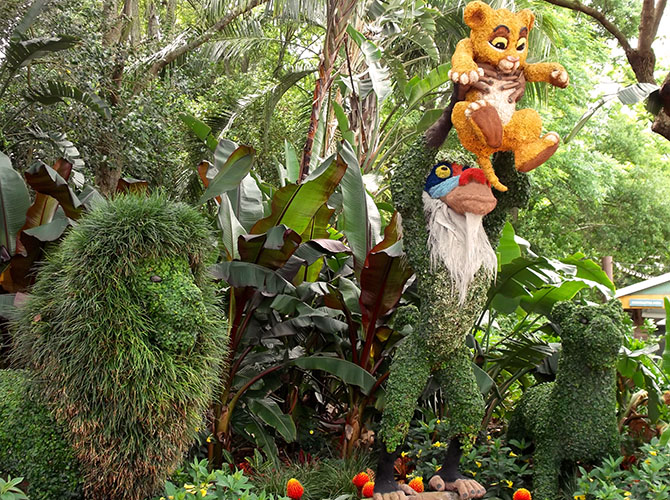 Botanas Botánico – this kitchen is brand new for 2015 and serving up food with a South American influence. The Cachapas (Sweet Corn Cake) with Farmer's Cheese appeals and as I've also a sweet tooth, the Coconut Tres Leches stands out – mmmm, I love Tres Leches!
On the drink front, La Tizana catches my eye. A Fruit Punch made of Orange & Lime Juice, Banana Puree and Granadine – with the option to add RHUM Orange Liqueur from Venezuela. Sounds perfect for a leisurely stroll in the spring sunshine.
Bloke would obviously go for a Polar Beer besides, who can resist a good pun?
Urban Farm Eats – these guys were at the festival last year. I won't lie, we didn't stop there as Vegan isn't really our thing. While the food still doesn't appeal to me this year, the Crispin Blackberry Pear Cider certainly does.
Pineapple Promenade – another repeat visitor. Gone is the Sweet Potato Cinnamon Waffle with pineapple soft serve (thank god, such a disappointment last year because I found it quite bland – but at least it had Pineapple ice cream!) and instead there are some interesting new items.
A Spicy Hot Dog with Pineapple Chutney (nom!), a Pineapple Soft Serve ice cream with a Macadamia Nut flavoured Rum float, which ordinarily I'd say "yes please" straight away to if it wasn't for the other new drink option – the Ace Pineapple Hard Cider.
That said, last visit to the Food and Wine Festival I tried a Pineapple wine and it was…not so good. I love Pineapple but the wine was just refined bitterness, I took one sip and gave it to Bloke who normally drinks anything and he threw it away – says a lot about that one! It's possible the Hard Cider will be the same but dammit, I still want to try find out for myself.
Fleur de Lys – I…don't know how, but I missed this Kitchen in the France pavilion last year. Actually, I do know how – there always seemed to be a queue when I was passing and I just couldn't be bothered to wait for a Macaron which is the only thing I was interested in.
This year there is another Macaron on offer; Strawberry Marshmallow (last year was Orange Blossom with white chocolate ganache). Plus a grown up Ice Pop combining French Peach Iced Tea, Grand Marnier Peach Raspberry Liqueur and Vodka – admittedly not much of a looker, but that, I would definitely queue up to try.
Taste of Marrakesh – a Falafel Pocket replaces last years Lamb Brewat Roll but the Harissa Chicken Kebab with couscous remains, phew. I'm not a huge fan of Baklava but it's nice to see a Pistachio one added to the menu for this year.
Hanami – this was a big favourite of mine last year, so I'm glad to see it back. Frushi! Definitely a winner for me. The Teriyaki Curry Bun is a new addition to the menu and sounds really interesting, I wish I was there to try that one.
The Strawberry Nigori looks an interesting drink and hopefully better than the Pineapple Paradise with Yuzu Slushie last year which was just plain weird. I'm not kidding, it was virtually a glass of creamy froth – I'm telling you, weird.
The Smokehouse: Barbecues and Brews – another winner returning from last year, it's a complete meat feast and I love it. The Pulled Pig Slider is making a reappearance again and the Beef Brisket is back but in a slightly different form. New this year is Smoked Debreziner Sausage which I'd love to try – anything smoked is fine by me.
The "Piggylicious" bacon cupcake with maple frosting (yes, you read that right) also returns. I couldn't bring myself to try this last time and I heard mixed views from the people who did.
Lots of craft beer choices including the return of Billy's Chillies spicy beer. Bloke tried this last year and said that after the initial taste shock of the first couple of sips that it was actually rather nice! A Maple Bacon Stout is new to the line up, presumably inspired by the success of the cupcake…
Primavera Kitchen – the Caprese is replaced with a Pinwheel of Mozzarella, Prosciutto and Ciabatta Bread which sounds perfect to my ears and the ricotta cheesecake is replaced by Lemon Panna Cotta – I adore cheesecake but I can eat Panna Cotta till it's coming out my ears so not a huge loss (except to my waistline).
The white peach Bellini would be my drinkie of choice here too. Mmm, Bellini.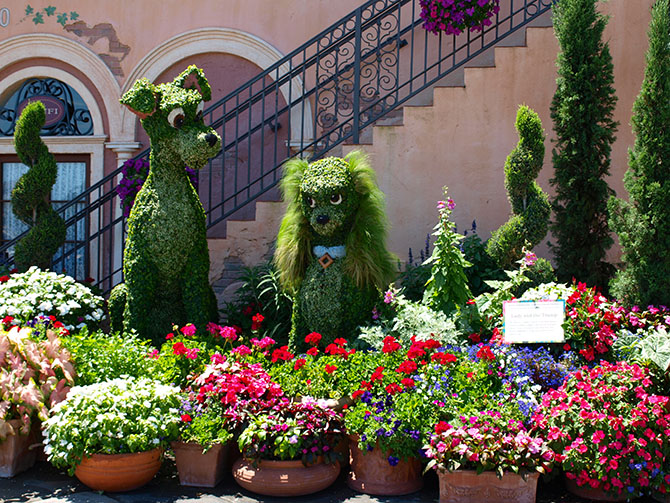 Lotus House – new this year is the Kung Pao Chicken Bun, replacing the Chicken Spring Pancake. The Vegetable Spring Rolls survive from last year though, as does the Bejing-style candied Strawberries.
The Oolong Peach Bubble Tea is on the menu – I've had a non-bubble version in the past which I'm guessing is fundamentally the same, it was very light and refreshing. Sad to see that the Lychee aerated water seems to be gone though, it was just a canned soft drink but sooooo good.
Jardin de Fiestas – No changes to the food side of the menu this year, but some great additions to their beverages.
Tecate with Patrón Citrónge, a Blueberry Pomegranate Margarita and a Tequila Liqueur Flight are all new to the scene. Methinks the Mexico kitchen is going to be very popular this year.
Florida Fresh – last or first kitchen you'll meet depending on the direction you take around the World Showcase. The menu seems largely unchanged but the Kumquat pie from last year is replaced by the Florida Blueberry and Lemon Curd Tart which sounds like an interesting combo.
There are a number of craft beers here too so this remains a staple kitchen for Bloke.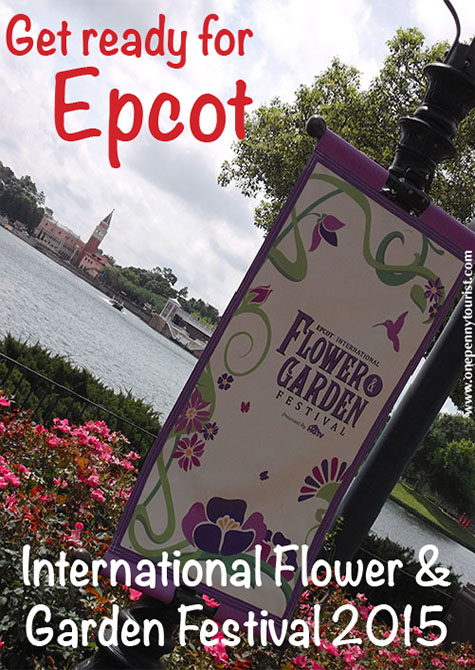 Have you ever been, or are you planning to visit the Epcot Flower and Garden Festival? Let me know what you think in the comments.

If you enjoyed reading this post, do let me know – I love it when people leave comments 🙂